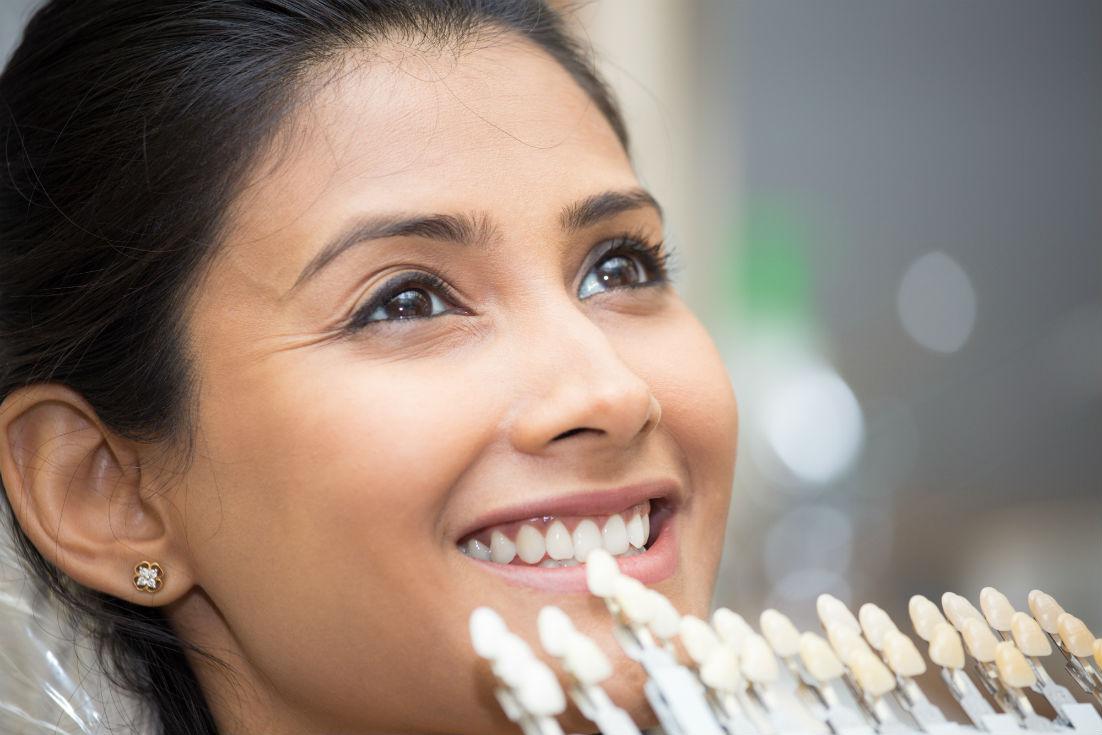 If you have a smile you don't like due to teeth that are discolored, chipped, misaligned, uneven, or gapping, you probably find yourself refraining from showing your teeth. Perhaps you smile with closed lips or you cover your mouth when laughing. It is likely that you unintentionally walk around with an unfriendly, straight face. Do you realize that not being able to smile at your full potential can harm your social life, as well as deprive you of some of the amazing benefits? Below are just a few of these benefits you may be missing out on.
5 Benefits of Smiling
Your entire body relaxes when you smile.
Smiling, even if forced, has been proven to immediately improve your mood.
Smiling releases those feel-good endorphins.
Smiling people are viewed as more attractive, sociable, and approachable.
Smiling gives the illusion that you look younger than you actually are.
And a whole lot more!

Two Ways to Easily Improve Your Smile
While there are many ways to improve your smile, two of the most popular methods are dental bonding and veneers. These are very similar dental cosmetic procedures, but they do have some important differences. Let's take a look at each option.

Dental Bonding
Dental bonding is a low cost and simple dental cosmetic procedure that is used to improve the appearance of heavily discolored or chipped teeth, lengthen teeth that are too short, and even close-in unwanted gaps.
After you and your dental provider select a shade of white that is right for you, your dentist will then etch and roughen each tooth with a special tool. This process is painless and does not require anesthesia. One at a time, the teeth are coated with a special bonding liquid and then with a resin. Before hardening the bonding liquid, the resin is molded to the ideal shape. Then, using a high-intensity light, the resin is hardened into place. If needed, further trimming and shaping are completed to perfect the appearance. Last, but not least, you'll receive one last polish. You are finally ready to fully smile and enjoy all the benefits that come along with it.

Veneers
Dental veneers, like dental bonding, are also used to improve the appearance of your smile. However, veneers are custom-made, thin coatings that are typically comprised of porcelain. The material for veneers is hard from the very start, unlike with dental bonding, and may not be shaped after they are made.
At your first visit, a dental impression will be made of your teeth and then sent to a dental laboratory, where your new veneers will be made to fit your teeth. This process only takes 1-2 weeks. When your dentist is ready to apply your veneers, they will sculpt your existing tooth to make room for the veneer. This is a painless process and allows the final tooth thickness to look even and natural. With this final step completed, you permanently trade-in your natural teeth for porcelain veneers.

Choosing Between Bonding and Veneers
The decision to choose between dental bonding and veneers usually can be decided after reviewing these five significant factors…
Cost: Bonding is more affordable than veneers.
Durability: Veneers are far more durable than bonding; they won't stain, chip, or break easily.
Time: Bonding is a faster process.
Permanency: Once you apply veneers, you cannot go back to your natural teeth.
Appearance: Veneers have a nicer, subtle sheen to them; both options look natural.

If you are looking to smile with confidence, dental bonding and custom porcelain veneers are two great options to consider. To learn more about which option might be best for you, our dental team encourages you to give us a call and we'd be happy to address all of your questions.